UMBC's Annual Earth Day Celebration
Ecofest 2015 is rapidly approaching. Learn about EcoFest below, or get in contact with our organizers.
Chill vibes, great music, and a good cause.
At EcoFest:

Hundreds of people gather to celebrate Earth Day
Free Music fills the air, along with Festival Games and DIY Crafts, all presented by talented student groups
Dozens of environmental organizations come to meet people and teach sustainability
Local businesses bring food, handmade jewelery, and more
Come to EcoFest:
Learn more about green causes
Celebrate the people that make this planet great
Enjoy the great outdoors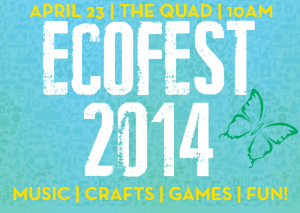 EcoFest 2014:
On April 23rd, hundreds of students and dozens of organizations came to the Quad, on a windy day, to celebrate Sustainability — with music, games, crafts, and food.
"Ecofest was huge and well organized! Great job keeping the tradition alive. UMBC has been celebrating Earth Day with Ecofest for over a decade now! It seems to be getting better and bigger over time" – Tanvi Gadhia, Sustainability Coordinator, UMBC.
Get in Contact:
To learn more about the community of groups that make up UMBC's sustainability movement, please visit our list of active groups.
EcoFest is proudly hosted by UMBC's Students for Environmental Awareness. Watch this space for information about UMBC's next ecofest. For more information, email sustainability@umbc.edu.