UMBC's Annual Earth Day Celebration!
Thanks for a wonderful celebration! We set up a myUMBC post thanking everyone for participating.
Celebrate your love of all things at EcoFest all Week!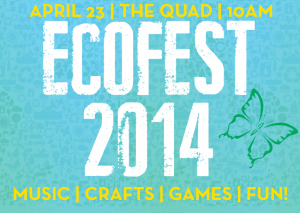 Music: A Cappella, Streel Drum, Guitar and Drums. The Stillettos, Steel Drum band, Connor Brendan Band, Taal Cappella, Mama's Boys, and the Up-Cycled Drum Circle are all performing at Free Hour, Wednesday 12 pm.
Activities, Games, Crafts: Hooplah will be teaching hulahooping. The Garden will host a hot-pepper eating contest. Shazaam! Women's Ultimate will lead frisbee games. There will be biome-foursquare, a photobooth, make your own hemp bracelets, yoga tutorials, face painting, recycled and upcycled jewelery, trivia, prizes, and more
See the whole week of events here. Click to embiggen any photo from past EcoFests.

​Ecofest is hosted by Students for Environmental Awareness (SEA). Our mission is to Think Locally, Act Globally. We raise awareness for environmental causes, and how everyone can make a difference.
What better way to raise awareness than an Earth Day festival bringing the whole school together around peace and community. SEA has worked tirelessly to secure space, funding, and partner organizations to make this the best EcoFest yet! This year we have a week of events planned, with the biggest being the Earth Day Festival, celebrated on April 23rd.
Quick Info
Who: On and off campus organizations, students, staff, community members.
What: A Festival with music, games, speakers, performances, food, crafts, giveaways, and your ideas!
When: Wednesday, April 23, from 10 am to 2 pm. Other events throughout the week
Where: The Commons Quad
Why: To celebrate Earth Day and UMBC!
If you have any questions, contact these EcoFest Organizers:
Cosponsors
The following people will be making EcoFest awesome:
The Stilettos
Pandemic Steel Band
Taal Cappella
Connor Brendan Band
Hooplah & Upcycled Drum Circle
Yoga Club
Shazam! Womens Ultimate
The Garden
Environmental Task Force
Active Minds
Shambala
Pre-Veterinary Society
Students for Sensible Drug Policy
Salvation and Praise
Triangle Fraternity
National Society of Collegiate Scholars
and more!
The following are Off Campus Organizations
Gwynns Falls Park
Energy Justice Network
Roots
Chesapeake Climate Action Network
GreeNEWit
Arbonne
MD Department of the Environment
Patapsco Valley State Park
LUSH
Environment Maryland
Parks & People Baltimore
Learn about our Cosponsors
SEA EcoFest Events:
Monday April 21
The Lorax Viewing and TED talks. Free Popcorn!
Commons Sports Zone | 7PM
Add to your calendar: myUMBC and facebook
Tuesday April 22
DIY Recycled Crafts and Art Show
Bring your quarter cards. Buttons, planters, mason jars, reusable bags, etc.
Commons Terrace | 11-2PM
Add to your calendar: myUMBC and facebook
Wednesday April 23
Earth Day Festival
The Quad | 10-2PM
Add to your calendar: myUMBC and facebook
Thursday April 24
CERA Nature Walk
Meet at Commons Loop | 6PM
Add to your calendar: myUMBC and facebook
Campus Events:
Tuesday April 22
Campus Sustainability Tour
Meet at Main Entrance of Performing Arts & Humanities Center |  3pm
Wednesday April 23
Earth Day 5K (SGA)The RAC | 11am registration (or register online), 12pm run
Tree Planting
Walker Avenue Garage | 3PM
EcoFest is hosted by